---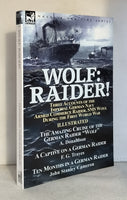 Exploits of one of the most successful German surface raiders in the Great War:
The Amazing Cruise of the German Raider 'Wolf' by A. Donaldson
A Captive of a German Raider by F. G. Trayes
Ten Months in a German Raider by John Stanley Cameron
The SMS Wolf was a particularly successful surface commerce raider—or auxiliary cruiser—of the Imperial German Navy during the First World War. Originally the freighter Wachtfels, the Wolf's role was to harass the sea lanes primarily sinking merchant ships carrying materiel for the Allied powers. She was armed with guns, torpedoes and mines and supported by her own spotter aircraft. The concept of the surface raider squadron was an innovative one because these ships appeared to be innocent merchant vessels until they came in close contact with their targets. Some of the ships in the squadron, being sunk or interned, had comparatively short careers, but the SMS Wolf under her charismatic commander, Nerger, was responsible for sinking 35 merchant vessels and two warships amounting to a total of 110,000 tons, which made the crew celebrities to the German public. This unique Leonaur edition brings together three contrasting accounts of the remarkable war time voyages and adventures of the Wolf, including perspectives from the crews of her victims who spent time aboard her as prisoners of war, and includes many pictures, including several not present in the original edition.