---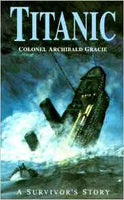 This text provides a record of one of the most traumatic events in maritime history - the sinking of the Titanic. Not only does Colonel Archibald Gracie detail his own experiences on that fateful night, he has traced other survivors and catalogued their own version of events.
Publisher: Sutton
Date published: 1995
Format: Paperback
Condition: Used. Very good. Minor wear. No inscriptions.