---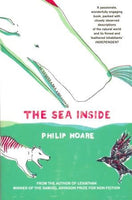 A startling new book, his most personal to date, from Philip Hoare, co-curator of 'Moby Dick: Big Read and winner of the 2009 Samuel Johnson Prize for 'Leviathan'.
The sea surrounds us. It gives us life, provides us with the air we breathe and the food we eat. It is ceaseless change and constant presence. It covers two-thirds of our planet. Yet caught up in our everyday lives, we barely notice it.
In 'The Sea Inside', Philip Hoare sets out to rediscover the sea, its islands, birds and beasts. He begins on the south coast where he grew up, a place of almost monastic escape. From there he travels to the other side of the world – the Azores, Sri Lanka, New Zealand – in search of encounters with animals and people. Navigating between human and natural history, he asks what these stories mean for us now.
Along the way we meet an amazing cast; from scientists to tattooed warriors; from ravens to whales and bizarre creatures that may, or may not, be extinct. Part memoir, part fantastical travelogue, 'The Sea Inside' takes us on an astounding journey of discovery.
Publisher: Fourth Estate
Date published: 2003
Format: Paperback
Condition: New