---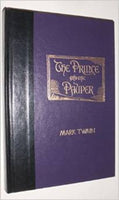 "The Prince and the Pauper" is the story of how when young Prince Edward Tudor of Wales and Pauper Tom Canty switch clothes that they are mistaken for each other and end up switching places. Prince Edward learns of the struggles of the commoners of England while Tom discovers what it is like to be a Prince and then a King. "The Prince and the Pauper" is both a delightfully comedic tale and a biting social commentary on the inequities among different social classes.
Publisher: Readers Digest - The World's Best Reading series
Date published: 1988
Format: Hardback
Condition: New. Minor shelf wear and corner bumping.