---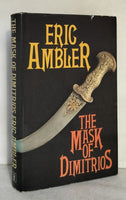 Classic tale by one of the most popular mystery writers of the twentieth century. The Mask of Dimitrios was also published in 1939, in the USA, as A Coffin for Dimitrios. 
Synopsis from Wikipedia: 
"Mystery writer Charles Latimer meets Colonel Haki of the Turkish police. Haki believes Latimer would be interested in the career of the notorious criminal Dimitrios, whose body has been identified in an Istanbul morgue. Latimer, who is indeed intrigued, begins an independent investigation of the details of Dimitrios' criminal career, and learns some information about it which is more dangerous than he had anticipated. He soon finds himself fighting for his life against a ruthless, capable enemy."
Rare copy with sword depicted on dust jacket. Black cloth boards with silver coloured lettering to spine.