---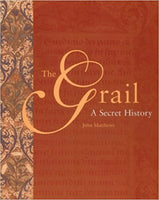 What is the Grail? Is it a stone? Is it a chalice? Or is it something even more powerful—an enduring idea that has captured humanity's imagination across the centuries? Fictional accounts of the Grail have topped best-seller lists over the years, 
The Da Vinci Code
 being only the most recent among them. But the truth about the Grail—where truth can be brought to light—is even more electrifying than the most exciting novel ever written. This informative and beautifully illustrated book recounts the Grail's story, from its early appearances in ancient myths to its many references in historical documents, literature, and the popular entertainment of today. Grail scholar John Matthews explores many previously unknown facets of the Grail's history. He brings to light the earliest accounts of the Grail, as they were originally inscribed in Greek, Vedic and Celtic myths. Then probing still more deeply into the story of the Grail, he— 
Examines the part the chalice plays in Christ's Passion
Tells stories of the secret societies that guarded the Grail's mysteries
Explores Grail theories that speculate on the holy bloodline of Jesus and Mary Magdalene, and on an alternate theory of the Grail as the philosopher's stone
Describes modern Grail seekers, and reveals why even the Nazis sought it

 



These and hundreds more fascinating details will keep readers turning pages to the book's final chapter. Approximately 90 color photos.