---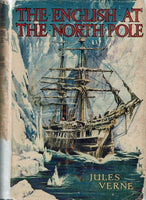 Undated but circa 1930. Part of Captain Hattaras' adventures. The story of the Englishmen's survival over the winter at the North Pole in bygone days, by such random acts as making fire with an ice magnifying glass and fashioning frozen mercury bullets. Great stuff! 
Publisher:

 Ward Lock & Co. Ltd.

Date published:

Undatetd. circa 1030

Format:

Hardback with dust jacket. Dimensions: 18cm x 12cm x 3cm

Condition:

Used, very good. 

dust jacket not price clipped; worn and torn around edges; spine of dj is very worn, with some parts missing altogether. Boards: general rubbing and bumping. Internally: age discolouration to prelims; minor foxing and dusting to edges. No inscriptions. Internally very clean. Binding very good. In protective poly wrapper, mainly to protect the dust jacket.