---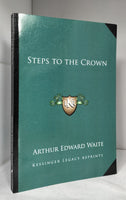 FACSIMILE
Originally published in 1907. Little-known work by the famous Occultist. Contents: Part I. The Fashions of the World: Counsels of Caiaphas; Spirits in Rebellion; Part II. Thresholds of many Sanctuaries: Man and Nature; Aids to Morality; If Love be Ours; Substitutes of the True Knowledge; Letters of the Word; Part III. Shadows of Secret Light; Lesser Aids to Reflection; Mysteries of Being; Seasons of Sorrow; Precincts of the Temple; Words of Understanding; Part IV. Consolations of the Greater Law; Prospects of the Heights; De Rebus Majoribus; Gates of Entrance; and The Path of Union. 
This is a lesser known work by mystical and occult writer Arthur Edward Waite [1857-1942]. A member of the Golden Dawn from 1891 until 1914, Waite wrote several books on ceremonial magic, alchemy, and mysticism. His work, The Book of Black Magic and Pacts [originally published in 1898, and distributed under the title, The Book of Ceremonial Magic in 1910] had inspired a young Aleister Crowley. Waite is also famous for being the co-creator of the Raider-Waite Tarot Deck that was published with his book, Pictorial Key to the Tarot in 1910. Steps to the Crown is divided into four parts: The Fashions of this World, Thresholds of many Sanctuaries, Shadows of Secret Light, and Consolations of the Greater Law. The aphorisms range from love, spirituality, morality, nature, and dreams to "express the moods of the mind almost in that language which belongs to symbolism." 
This scarce antiquarian book is a facsimile reprint of the original. Due to its age, it may contain imperfections such as marks, notations, marginalia and flawed pages. Because we believe this work is culturally important, we have made it available as part of our commitment for protecting, preserving, and promoting the world's literature in affordable, high quality, modern editions that are true to the original work.
| | |
| --- | --- |
| Publisher |  Kessinger |
| Date published |  2010 |
| Format |  Paperback facsimile |
| Condition |  New. Light shelf wear.  |