---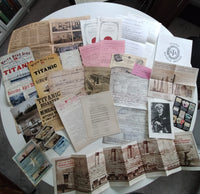 Replica pack of documents surrounding the Titanic disaster of 1912. A fascinating insight into real history. 
The pack contains replicas of: 
Folding card pocket brochure for RMS Titanic
Ticket Poster for Titanic's Maiden (and last) voyage
The Daily Graphic Newspaper "Titanic In Memoriam" Edition
White Star Line 1st Class Passenger List for RMS Titanic's Maiden Voyage
Photographs of Titanic, Olympic and Disaster poster help by Evening News paper boy
Poster for Third Class tickets on Titanic
Letter, written on the back of a Titanic menu, dated 11th April 1912
Radio transmission from Titanic to SS Birma "Struck iceberg - need assistance"
Identity card of a cook on board Titanic
Titanic Disaster Memorial Service poster
Cutaway diagrams of Titanic
Photograph of Captain Rostron
Pictorial comparison of biggest buildings of the day, and Titanic
Letter of Condolence from the General Workers' Union 
Hymnsheet - "Nearer My God To Thee" in English and French
Advertisement for soap, as used on Titanic.
Transcript of Register for Transmission of Register-General of Shipping and Seamen: Name of Ship - Titanic
| | |
| --- | --- |
| Publisher |  Memorabilia Pack Company, Edinburgh |
| Date published |  no date, but has a website |
| Format |  Replica documents |
| Condition |  Very good.  |
This offer also includes a pack issued by the Titanic Signals Archive in 1991, containing 2 certificated Telegramme De Service and their certificates. Document 59A is stamped and numbered. However, Document 59M does not appear to have a numbered stamp on the actual document. 
| | |
| --- | --- |
| Publisher |  Titanic Signals Archive |
| Date published |  1991 |
| Format |  Certificated replicas in folder |
| Condition |  Very good. Light wear to folder. Rust marks from paperclips on certificates, imprints from paperclips on documents. Slight damage from paperclip on unstamped document.  |