---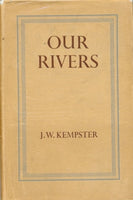 .Immediate dispatch from the UK. 1st edition 1948 talks about pollution, legislation, fishery laws and the right of fishing, and economic considerations. This is a serious book.

Publisher: Oxford University Press
Date published: 1948  1st edition
Format: Hardback with dust jacket
Condition: D/w spine is slightly soiled with very small parts from head and tail.Protected by plastic sleeve. Ownership signature on ffep.