---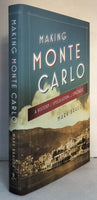 A rollicking narrative history of Monte Carlo, capturing its nineteenth-century rise as the world's first modern casino-resort and its Jazz Age heyday as infamous playground of the rich.

Monte Carlo has long been known as a dazzling playground for the rich and famous. Less well known are the shrewd and often ruthless strategies that went into creating such a potent symbol of luxury and cosmopolitan glamour. As historian Mark Braude reveals in his entertaining and informative 
Making Monte Carlo
, the world's first modern casino-resort started as an unlikely prospect—with the legalization of gambling in tiny Monaco in 1855—and eventually emerged as the most glamorous gambling destination of the Victorian era. The resort declined in the wake of WWI, and was reinvented, again, to suit the styles and desires of the new Jazz Age tastemakers, such as F. Scott and Zelda Fitzgerald, Gerald and Sarah Murphy, and Coco Chanel.

Along the way, we encounter a colorful cast of characters, including the fast-talking Francois Blanc (a professional gambler, stock market manipulator, and founder of Monte Carlo); Basil Zaharoff (notorious munitions dealer and possible secret owner of the casino in the 1920s); Elsa Maxwell (a brash society figure and Hollywood maven, hired as the casino's publicist); Réné Léon (a visionary Jewish businessman, who revitalized the resort after WWI); Jean Cocteau, Pablo Picasso, and other satellite members of Serge Diaghilev's Ballet Russes dance company; as well as Cole Porter, Ernest Hemingway and other American expats who 'colonized' the Riviera in the 1920s.

A rollercoaster history of how a small, rural town grew into the prosperous resort epicenter of the late nineteenth century and rose again to greatness out of the ashes of WWI, 
Making Monte Carlo
 is a classic rags-to-riches tale set in the most scenic of European settings.