---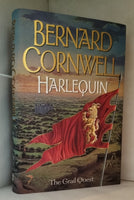 Harlequins are lost souls, so loved by the devil that he would not take them to hell, but left them to roam the earth. In French the word is hellequin – the name given to the English archers who crossed the Channel to lay a country to waste.
Thomas of Hookton is one of those archers. When his village is sacked by French raiders, he makes a promise to God: to retrieve the relic stolen from Hookton's church. Escaping his father's ambitions, he becomes a wild youth who delights in the life of an army on the warpath.
Driven by his conscience and protected by his fearsome skills, he enters a world where lovers become enemies and enemies become friends, where his only certainty is that somewhere, beyond a horizon smeared with the smoke of fires set by the rampaging English army, a terrible enemy awaits him. This enemy would harness the power of Chistendom's greatest relic: the Grail itself.
Here, in the first book of a new series, the quest begins. It leads him through the fields of France, to the village of Crecy where two great armies meet on the hillside to do battle.