---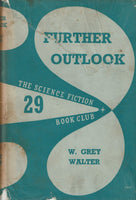 The Snowflake is perhaps the most ingenious, convincing and magical vehicle yet dreamt of for time-space travel. The events which lead to its appearance in the 1960s, touching down on the rough heather of a Scottish moor, involve the lives of three people - Punch and Simon, scientist and engineer, and Paula, who combines the attractions of Cleopatra with the drive of a Beaverbrook. She it is who organises a research group on a large scale centred round Punch's discovery of a new atomic fuel, "based on fusion, not fission." Operation Snowball, as it is prophetically named, results in the launching of the SS.1, an artificial satellite, wonderful enough, but of the earth earthy compared with the mysterious visitant, the Snowflake itself, which ranges as far out in time as 2065 and casts back the glacial light of an infinitely refracted future upon these three lives and on that of Paula's unborn child.
Those who know how close Dr Grey Walter's work on brain physiology has brought him to the very stuff of human personality will be heartened to find in this novel that he takes, by and large, a sanguine view of the world's future; and all can read with enjoyment the details of the changes he foresees for the century ahead of us. His blueprint, so brilliantly documented from physics, biology and psychology, will be scanned with pride and hope by a world at present deficient in both. 
The author of Further outlook was a scientist and researcher of applied neurophysiological research in hospitals, in London. He also played a leading part in the construction of autonomous robots. 
| | |
| --- | --- |
| Publisher |  Science Fiction Book Club |
| Date published |  1957 |
| Format |  Hardback with dust jacket.  |
| Condition |  Used, very good. Red cloth boards with blue dust jacket. DJ very worn, grubby , chipped, sunned on spine, large closed tear on front - but now in protective poly cover which keeps the whole book neat. Edges have some spotting and dusting. Internally hardly any marks at all, clean, no inscriptions. Binding very good.  |