---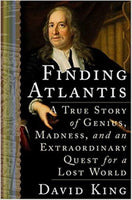 The untold story of a fascinating Renaissance man on an adventurous hunt for a lost civilization—an epic quest through castles, courts, mythologies, and the spectacular world of the imagination.

What do Zeus, Apollo, and the gods of Mount Olympus have in common with Odin, Thor, and the gods of Valhalla? What do these, in turn, have to do with the shades of Hades, the pharaohs of Egypt, and the glories of fabled Atlantis? In 1679, Olof Rudbeck stunned the world with the answer: They could all be traced to an ancient lost civilization that once thrived in the far north of Rudbeck's native Sweden. He would spend the last thirty years of his life hunting for the evidence that would prove this extraordinary theory.

Chasing down clues to that lost golden age, Rudbeck combined the reasoning of Sherlock Holmes with the daring of Indiana Jones. He excavated what he thought was the acropolis of Atlantis, retraced the journeys of classical heroes, opened countless burial mounds, and consulted rich collections of manuscripts and artifacts. He eventually published his findings in a 2,500-page tome titled Atlantica, a remarkable work replete with heroic quests, exotic lands, and fabulous creatures.

Three hundred years later, the story of Rudbeck's adventures appears in English for the first time. It is a thrilling narrative of discovery as well as a cautionary tale about the dangerous dance of genius and madness.
| | |
| --- | --- |
| Condition: |  New |
| Publisher: | Harmony |
| Date published:  | 2005 |
| Format: | Hardback with dust jacket |