---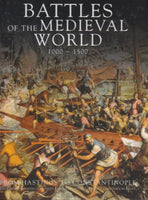 Large A4+ size hardback full of information and colour illustrations with drawings, maps and photos.
Provides an information packed, highly illustrated guide to 20 battles of the medieval period, including Hastings, Hattin, Leignitz, Lake Peipus, Bannockburn, Crecy, Agincourt, Constantinople, and many more. Includes full-colour tactical maps for each battle, showing the reader the dispositions and movements of the opposing armies at a glance.
Ideal for school studies (teenagers and adults) or for a gift. 
Publisher: Amber
Date published:2008
Format: Hardback with dust jacket 
New. Light shelf wear.