---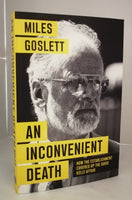 PAPERBACK EDITION INCLUDES AN AFTERWORD WITH NEW INFORMATION ON THE KELLY CASE.
A DAILY TELEGRAPH BOOK OF THE YEAR.
'A compelling, authoritative insight into possibly the most controversial death in Britain this century'The Observer.
'Goslett's like Poirot; he asks questions ... Spooky and scary'Evening Standard.
'Masterful ... This book made me proud of my trade as a journalist'Daily Mail.
'This searing excavation of the mysterious death of Dr David Kelly is investigative journalism at its best. It is brave, relentless, dazzlingly revealing'Peter Oborne.
In March 2003 British forces invaded Iraq after Tony Blair said the country could deploy weapons of mass destruction at 45 minutes' notice. A few months later, government scientist Dr David Kelly was unmasked by Blair's officials as the assumed source of a BBC news report challenging this claim. Within days, Dr Kelly was found dead in a wood near his home. Blair immediately convened the controversial Hutton Inquiry, which concluded Dr Kelly committed suicide.
Yet key questions remain: could Dr Kelly really have taken his life in the manner declared? And why did Blair's government derail the coroner's inquest into Dr Kelly's death? In this meticulous account, award-winning journalist Miles Goslett shows why we should be sceptical of the official story of what happened in that desperate summer of 2003.
| | |
| --- | --- |
| Publisher |  Head of Zeus |
| Date published |  2019 |
| Format |  Paperback |
| Condition |  New |