---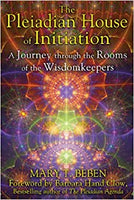 Inviting each of us to discover our spiritual home in the higher realms, Mary Beben provides a visionary tour of the celestial mansion of her family in the Pleiades, a home she inhabited prior to this incarnation on Earth. She explains how transitioning into materiality causes each of us to forget our starry origins, yet it is still possible to remember our Pleiadian heritage and divine reasons for choosing to manifest on Earth.

Beben details her initiatic journey as she rediscovered the beautiful rooms on each floor of her Pleiadian house and learned to ascend to higher consciousness while remaining lovingly rooted in the Earth. She recounts her trials to reach the higher levels of the building and her encounters with immortal wisdomkeepers such as White Buffalo Woman, Taliesin, Mother Mary, and Grandmother Spider. Embedded throughout her story are lessons to help each of us jettison psychological baggage like fear and jealousy so we can continue our ascension and fulfil our Pleiadian birth right.

Beben explains how her journey offers a prophetic glimpse into the future of life on Earth as well as the key to opening the heart to the higher realms of existence. She shows how ascension will not mean departing Earth but will place our Earthen reality in perspective and help solve problems that seem insurmountable from this dimension.

In rediscovering the celestial origins of our souls, we recognize not only the Earth as the key to conscious evolution but also our role as the Keepers of Earth, the planet celebrated throughout the universe on which each of us is fortunate to have chosen incarnation.
| | |
| --- | --- |
| Publisher |  Bear & Company |
| Date published |  2014 |
| Format |  Paperback |
| Condition |  New |